We Help Leaders and Fast Growing Companies Rise to the Top of Their Game Through Our Leadership and Organizational Transformation Programs 
Are You Ready to Drive Growth… On Your Terms?
The Empowered Business™ works with emerging companies challenged with the breakdowns and "roller coaster ride" during accelerated and fast growth.  Our clients seek to move beyond chaos and plateaus and build the leadership and organizational capacity that drives and sustains growth.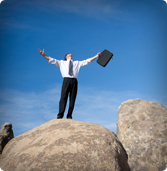 Our clients are CEOs or executives who are visionaries, forward thinkers and change agents. Their companies cover a wide cross-section of industries, geographies and demographics – including Inc. 500 honorees, recognized industry leaders, rising stars, emerging and fast growing companies.
Their one commonality: their mindset.  They are driven by a higher set of standards and know no limits to what they and their company can achieve.)
They've reached a certain level of success yet now are challenged with the double edge sword of growth.  They seek new levels of achievement at a pace they can handle and the right "guide" to help them get there. If this describes you and your company, The Empowered Business™ could be your solution.
Is Your Organization Stuck in Moving Forward?
Then these challenges may sound familiar to you:
Your fast growing company has "hit a wall."  Your past success strategies, thinking and practices are no longer working; your future growth is now in jeopardy.  Your consuming question is "where do we go from here?"
You are tired of being consumed with today's demands at the expense of tomorrow's possibilities.  Fast growth has stretched your leadership team to the max.  You find yourself overwhelmed by a "crises of the day" mentality, completely losing sight of the company's big picture.  You are ready to recommit to your future goals and develop the leadership and organizational capacity to make them a reality.
You find yourself in a leadership or business role beyond you.  Fast growth is pressuring you to stretch at a brisk pace that feels overwhelming and uncomfortable. You are haunted by your own self-doubts, insecurities and lack of know-how.  You are now ready to transform your inner blocks into empowering actions and results.
You or your company is suffering from burnout and costly stress.  Your business is growing so fast that you are on a constant treadmill, always feeling like you are out of control.  You long to find that delicate balance of moving your business forward at a rapid rate with running at a speed you and your company can handle.
Your leadership team's growth and capacity has hit a "glass ceiling" with no obvious answers.  Improving upon their skill set has little or no effect.  You know that only a fundamental shift at the deepest level will ignite your team to a new level of leadership potential.  You are ready to make that shift critical to your company's future growth.
Now ask yourself, "What if we could reverse these issues and avoid the costly traps of fast growth?  What would be the financial and operational impact on our organization?" If you are ready for this new reality, you'll want to read on…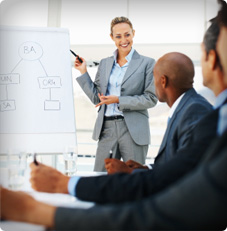 Who is Most Likely to Profit from Our Game-Changing Approach to Leadership
and Organizational Transformation?
With over 27 years of experience as a leadership and organizational coach and consultant, Denise has found common traits that distinguish those clients with whom we can produce the best results.  If these traits speak to you, there is a strong probability that we can help you build the leadership and organizational capacity that can drive and sustain profitable growth.
You value people and the potential of the human spirit.  Your leaders know that your employees are your most important asset and, given the right organizational climate to flourish, will drive stronger company profits and transform your culture into your greatest competitive advantage.
You have a relentless spirit to "push the envelope" … always seeking that next level of growth, achievement and potential.  Playing safe and being ordinary are not an option.
You are ready to invent your future … rather than be dictated by it.  You can see the possibilities and are ready to transform those possibilities into reality.
You are ready to challenge today's success to realize tomorrow's possibilities.  You recognize that the thinking, skills and capacities that catalyzed your current success are now holding your company back.  Your company is at a crossroads and bringing in an expert who can help you make that leap is a decision you are ready to make.
You value deep, long lasting transformation that ignites the vitality, potential and performance of your enterprise, over quick fixes and band-aid approaches that eventually cost you profits and revenues in the long term.
Becoming a world-class/high performance leadership team, organization and culture gets you excited and is a top priority as a company.